104 high school students explored at least 4 different careers using immersive virtual reality technology through the Big Ideas Mobile Learning Lab.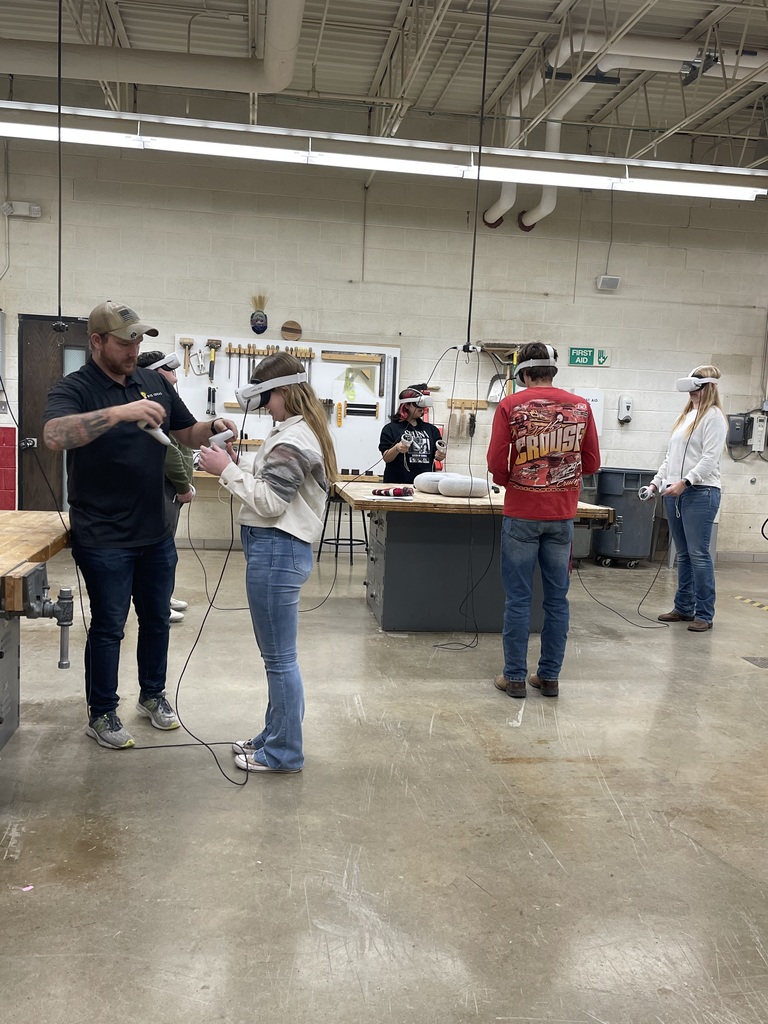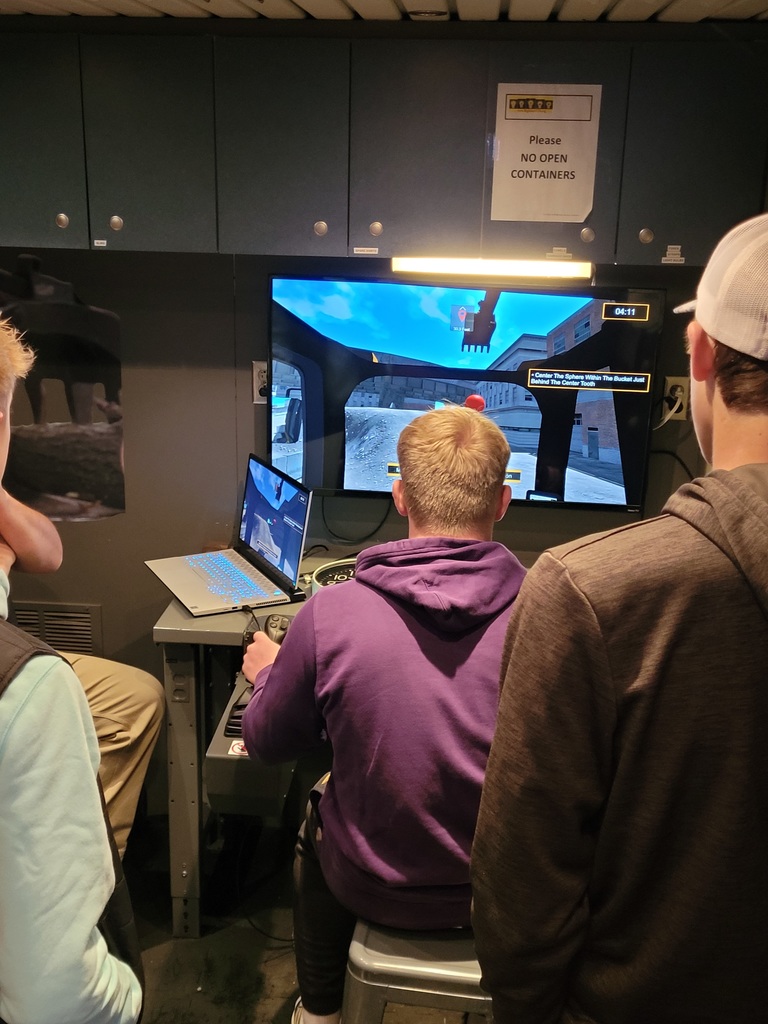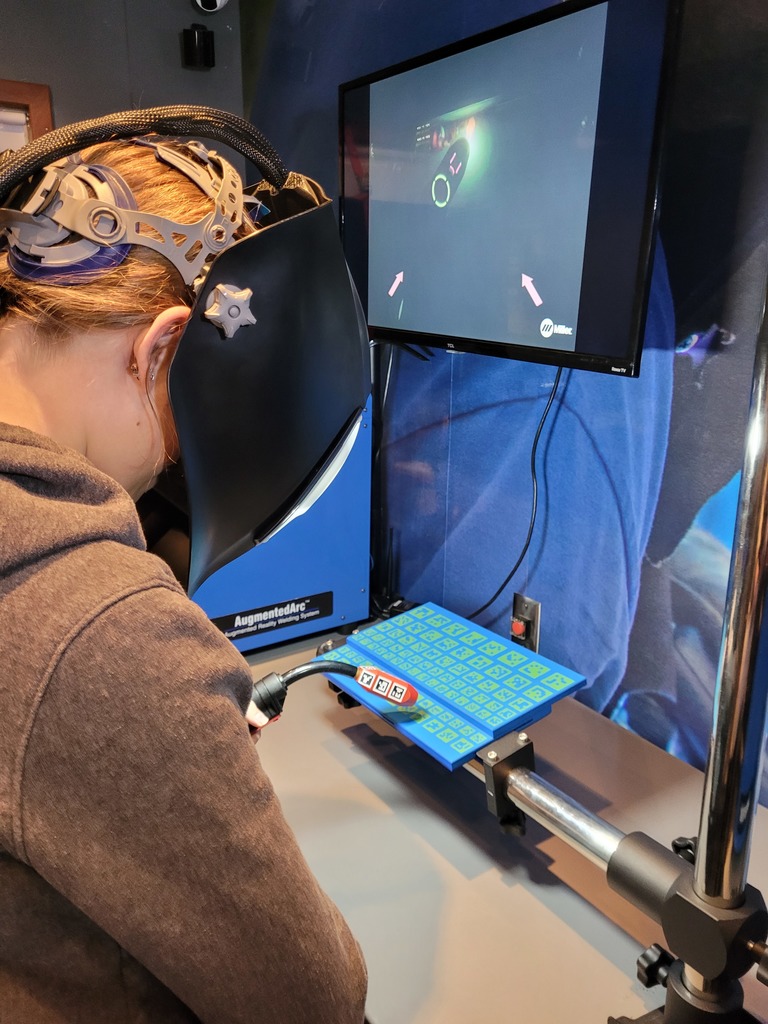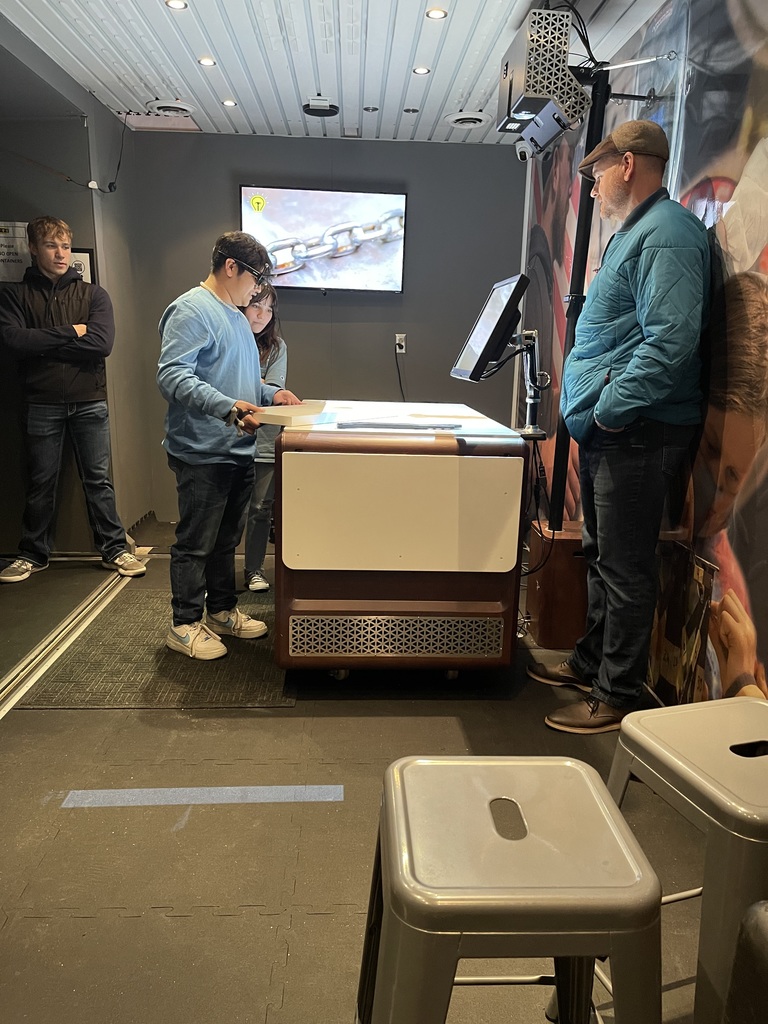 Montevideo Public Schools wishes you a Happy Thanksgiving! No School November 23-25, 2022.

Change of Location for MHS Career Fair! The Career Fair is coming Monday, November 7th from 5:00 pm to 7:30 pm. for MHS students and their families. The Career Fair will now be held in the Montevideo High School Gym. Enter through the main gym doors. We hope to see you in the gym on Monday night!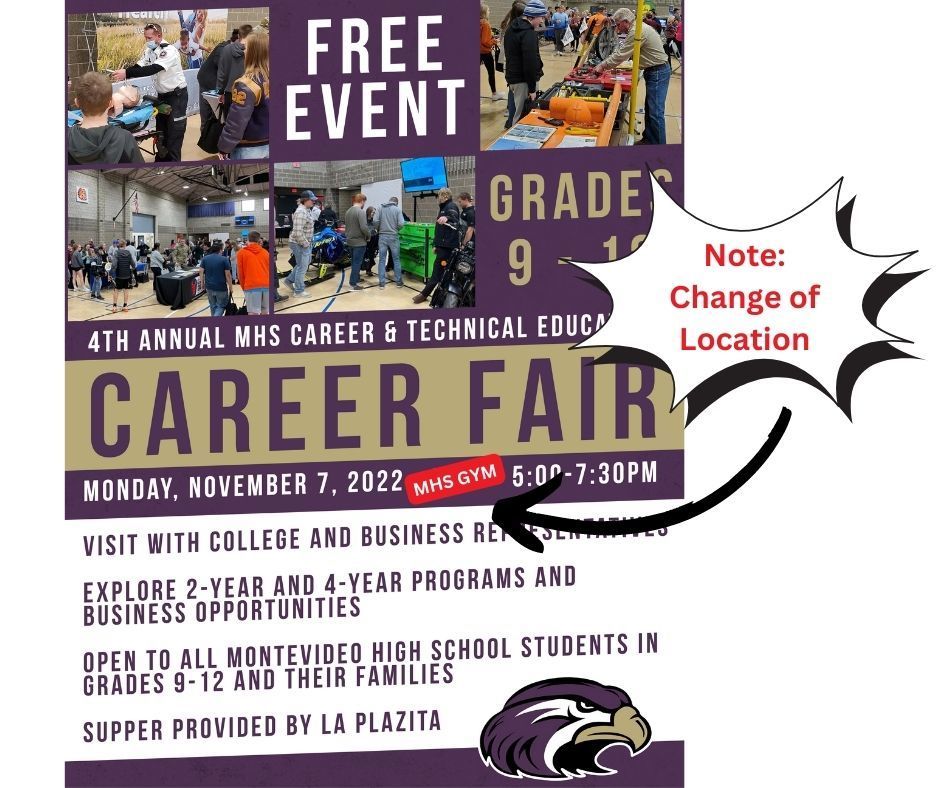 SCHOOL CALENDAR REMINDER: Friday, November 4th is an Early Dismissal Day and End of Quarter 1 for Montevideo Schools. Parents be on the lookout for conference sign-up information from your student's teacher/advisor. Early dismissal times are: Ramsey-1:15pm, Sanford-1:20pm, MHS-1:25pm, MMS-1:30pm.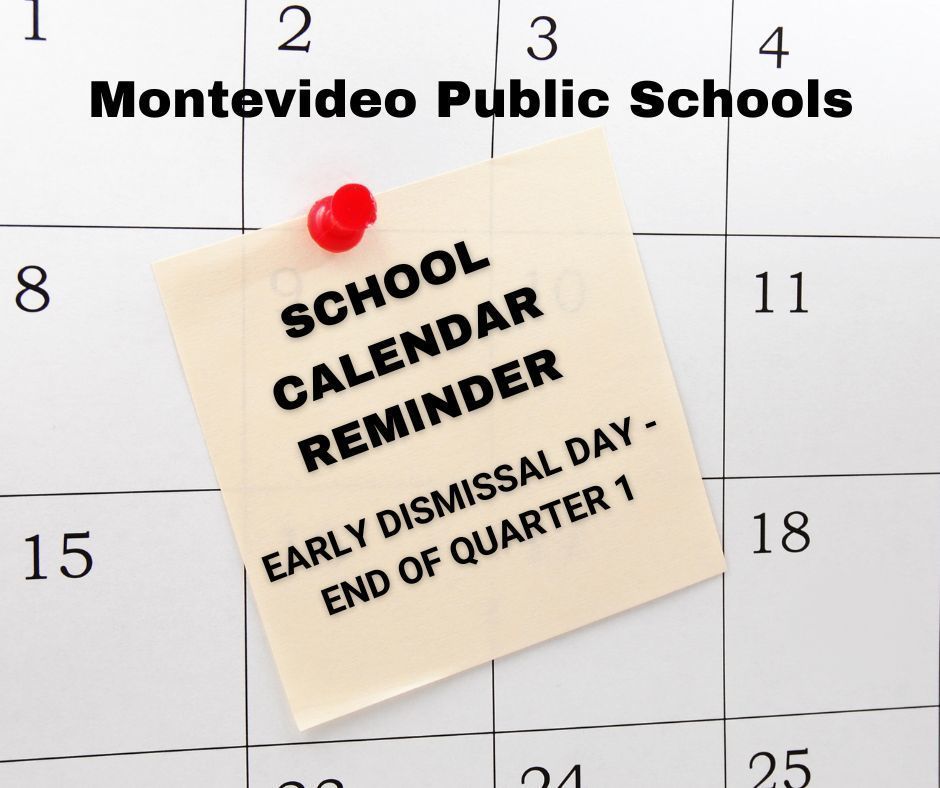 Tickets for tonight's Section playoff football game in Morris can only be purchased on-line. Tickets will not be available at the door. Here is the link to purchase a ticket:
https://www.vancoevents.com/BMCM
. Kick-off 7:00 p.m. Go, Hawks!!

School Calendar Reminder: No school for students on October 19-21 due to Staff Development and MEA.
Mr. Van Sickle had a few Apple Crunchers!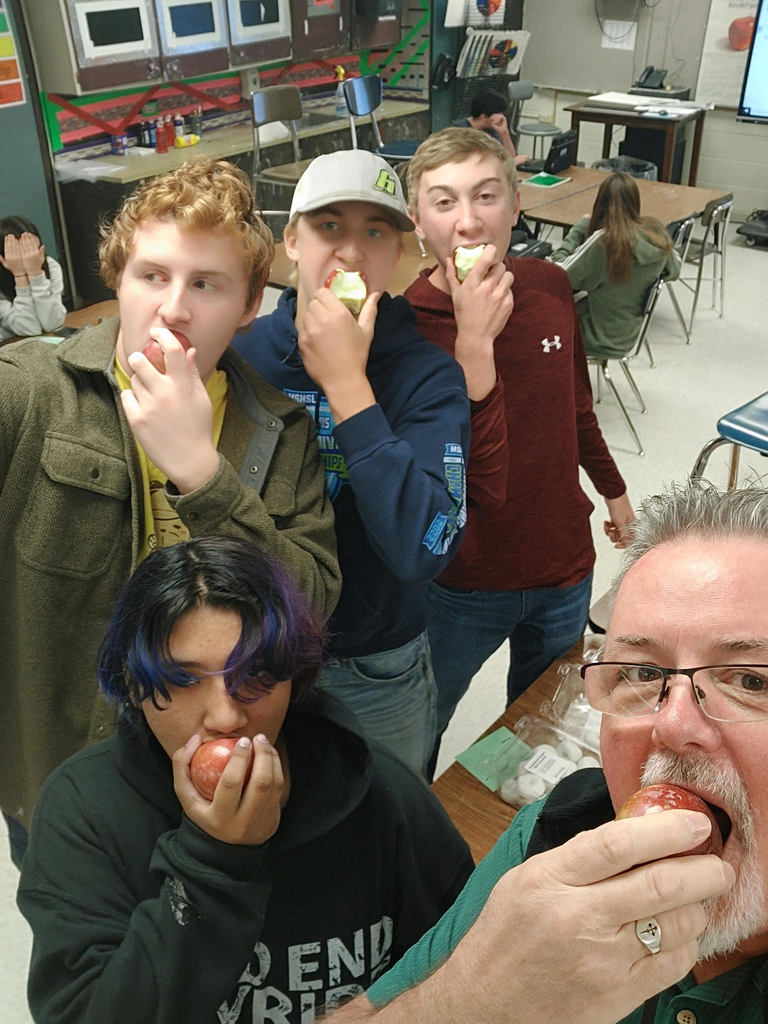 Today is "THE GREAT LAKES GREAT APPLE CRUNCH " day. It is also FARM TO SCHOOL month. Montevideo High School celebrated the Great Apple Crunch by enjoying beautiful, fresh apples from a farm in our region. Farm to School is a great way to nourish our kids, support our local farmers, and strengthen our communities. Celebrate Farm to School Month with Minnesota. Farm. Fresh Local food throughout October. Let's lift up what is happening in cafeterias, classrooms and communities across Minnesota!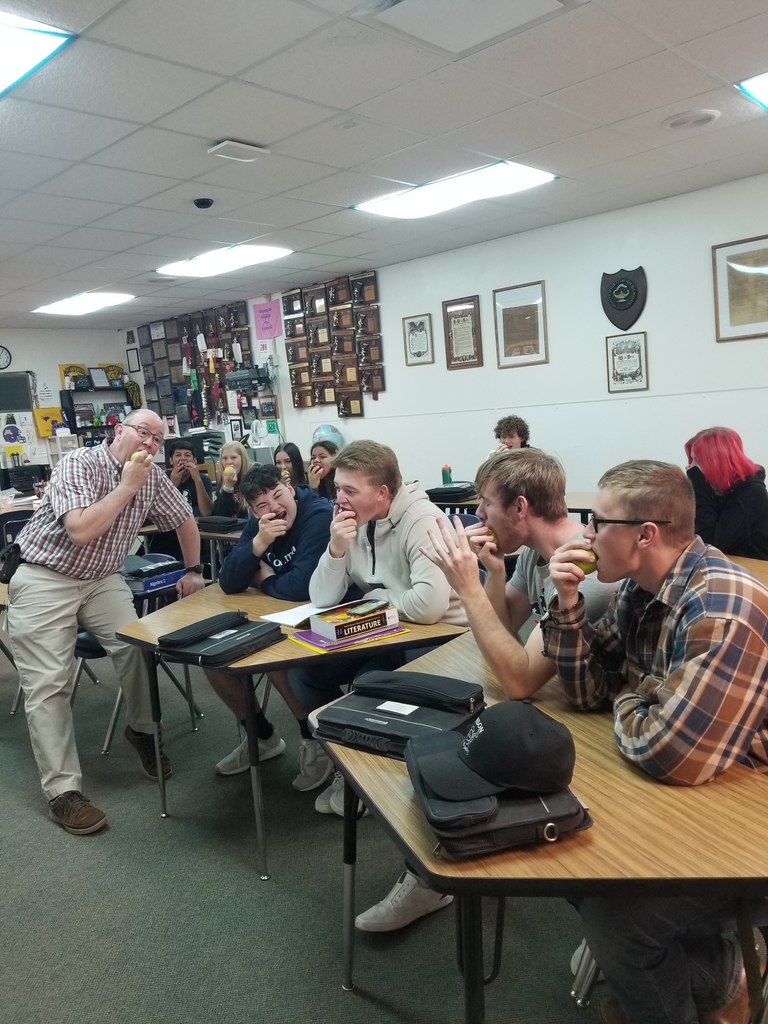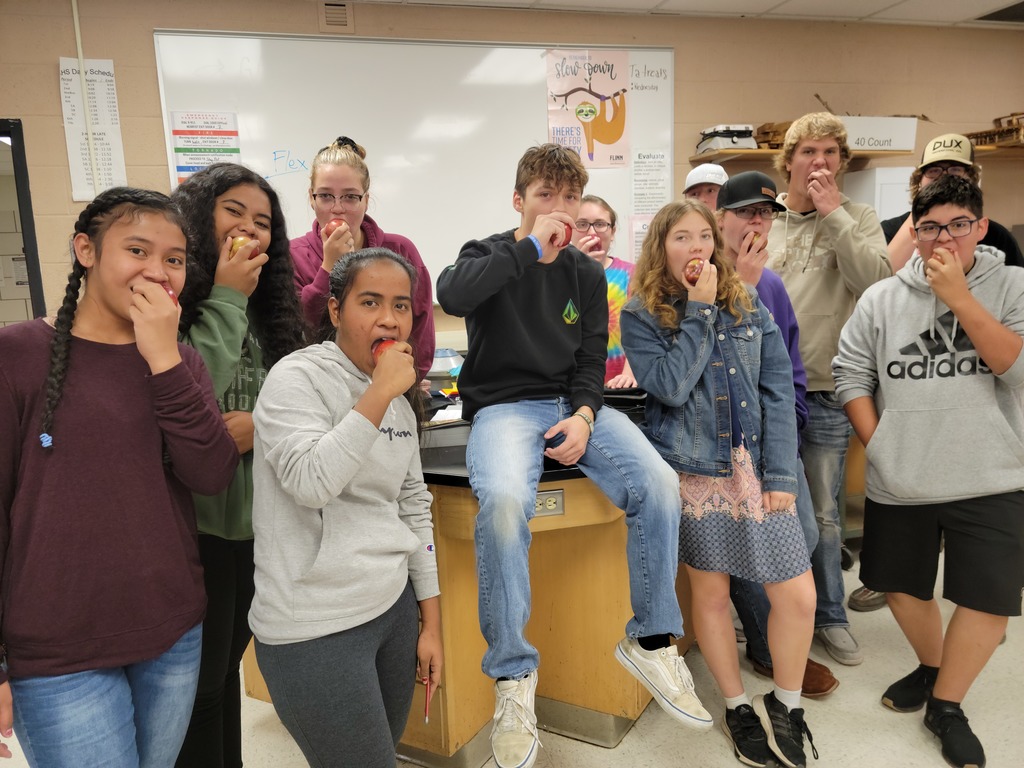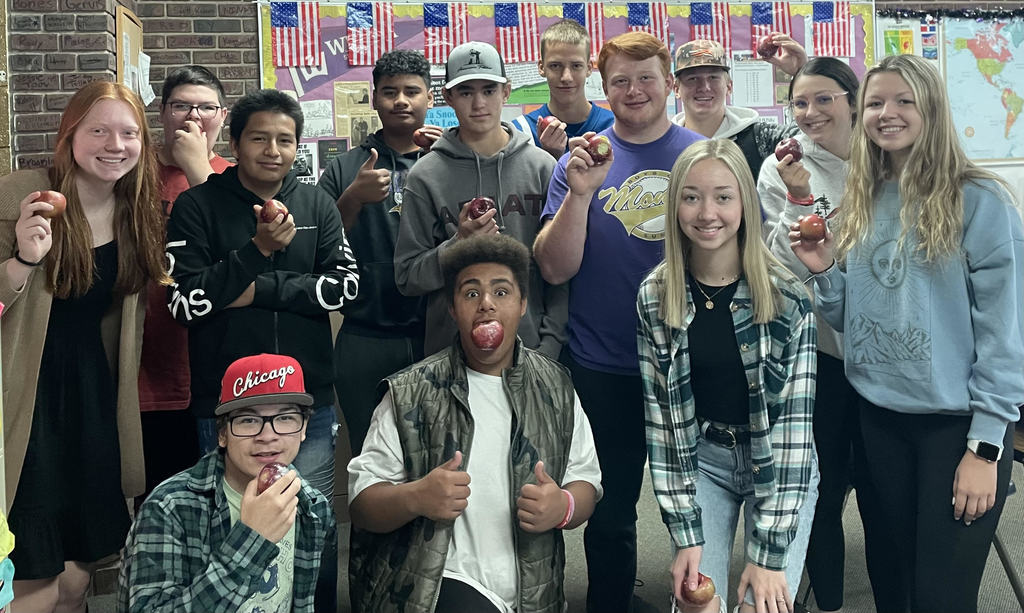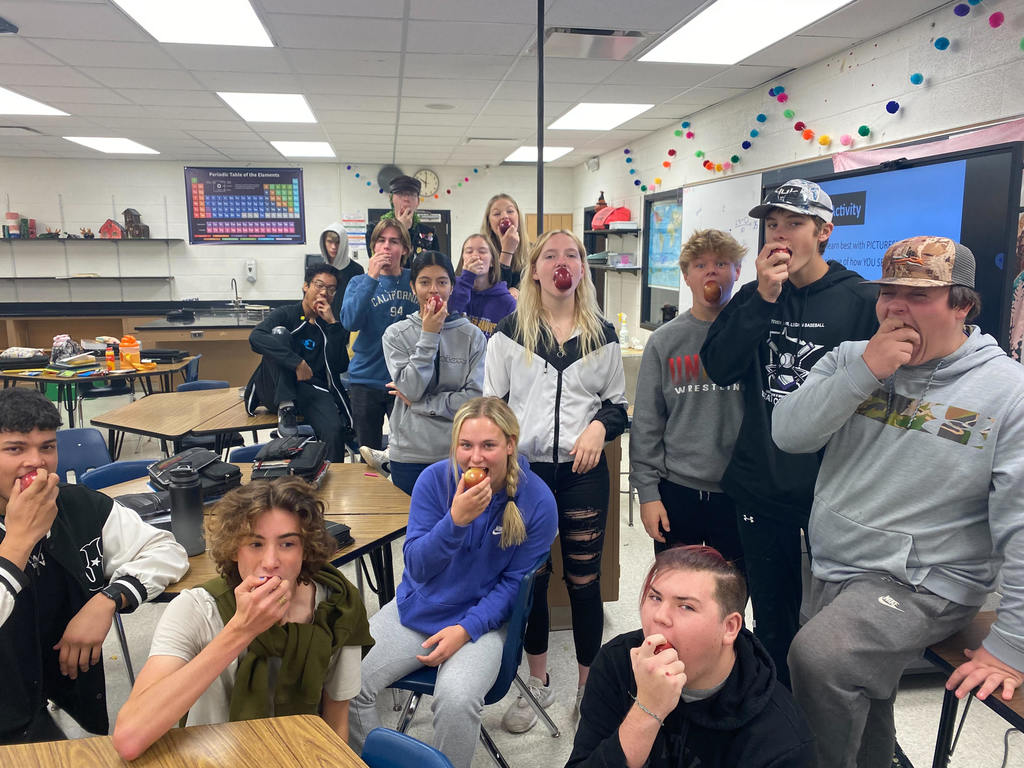 The Millennium Theater is hosting a special screening of ANGST on 11/9/22 @ 6:30pm for FREE.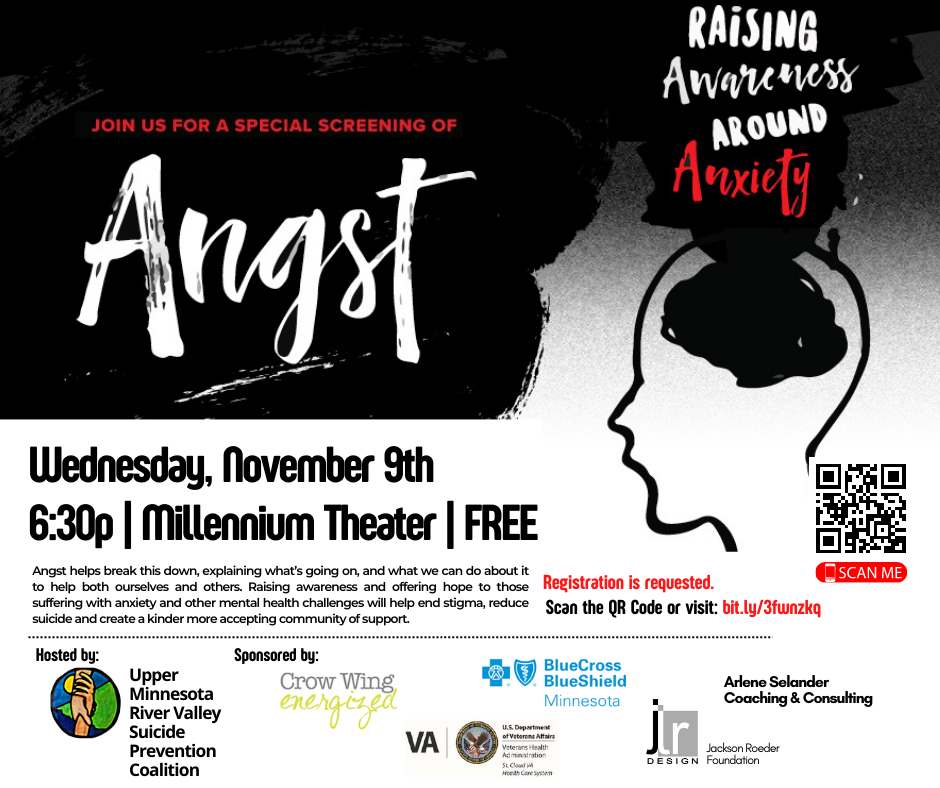 SCHOOL CALENDAR REMINDER: Friday, October 7th is an Early Dismissal-Staff Development Day for Montevideo Schools. Dismissal times are: Ramsey-1:15pm Sanford-1:20pm MHS-1:25pm MMS-1:30pm

In celebration of National Custodian Day, Montevideo Public Schools would like to recognize and thank our awesome, hard-working custodial staff for keeping our schools and grounds safe and clean! We appreciate all that you do! #HawkPride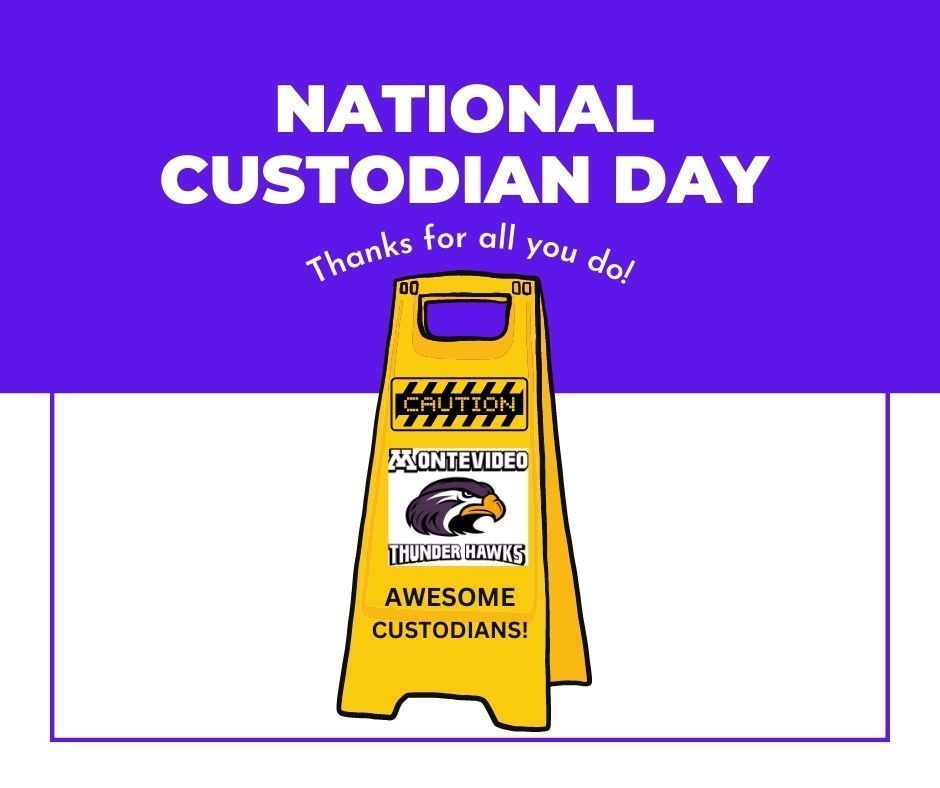 Good Morning Thunderhawks! Our staff is PUMPED for Homecoming Friday!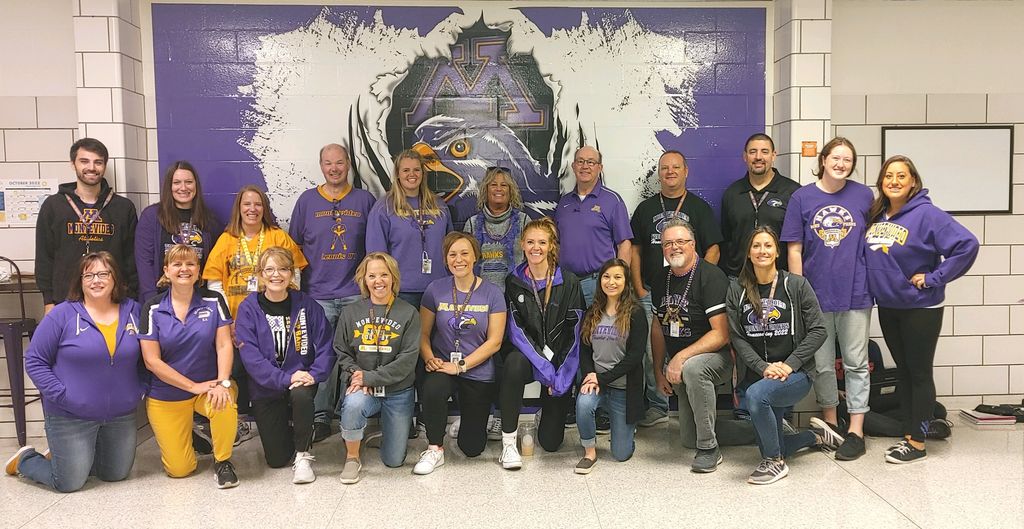 Pack the Stands! Homecoming events Thursday, Sept. 29: 6:00 Girls Swim & Dive vs Melrose Area (Autograph Night) 6:00 Volleyball vs Sauk Centre (BC games 6:00/Varsity to follow) Go Hawks!

Congratulations to our new 2022 Homecoming Royalty - King Fox, Queen Avery, Prince Mason & Princess Cami! #Homecoming2022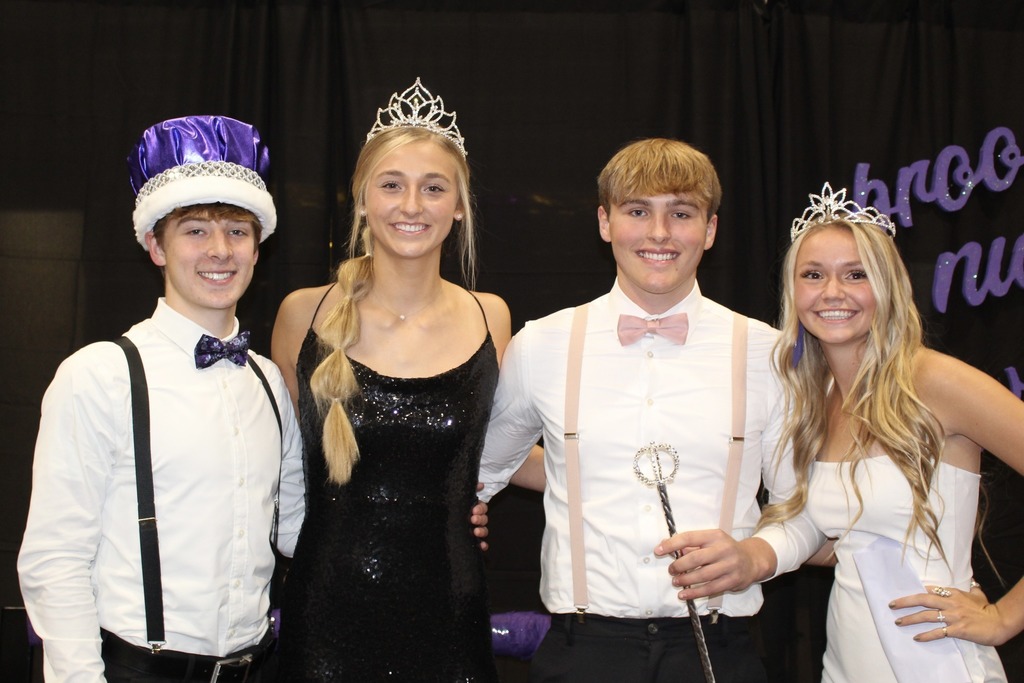 Happy Fall Y'all! MHS Fundraiser - Montevideo High School is raising money with all proceeds going to "Adopt-A-Family" by selling gourds at the volleyball game on Thursday, Sept 29th AND at the football game on Friday, Sept 30th. Free will donation. Bags/boxes will be provided.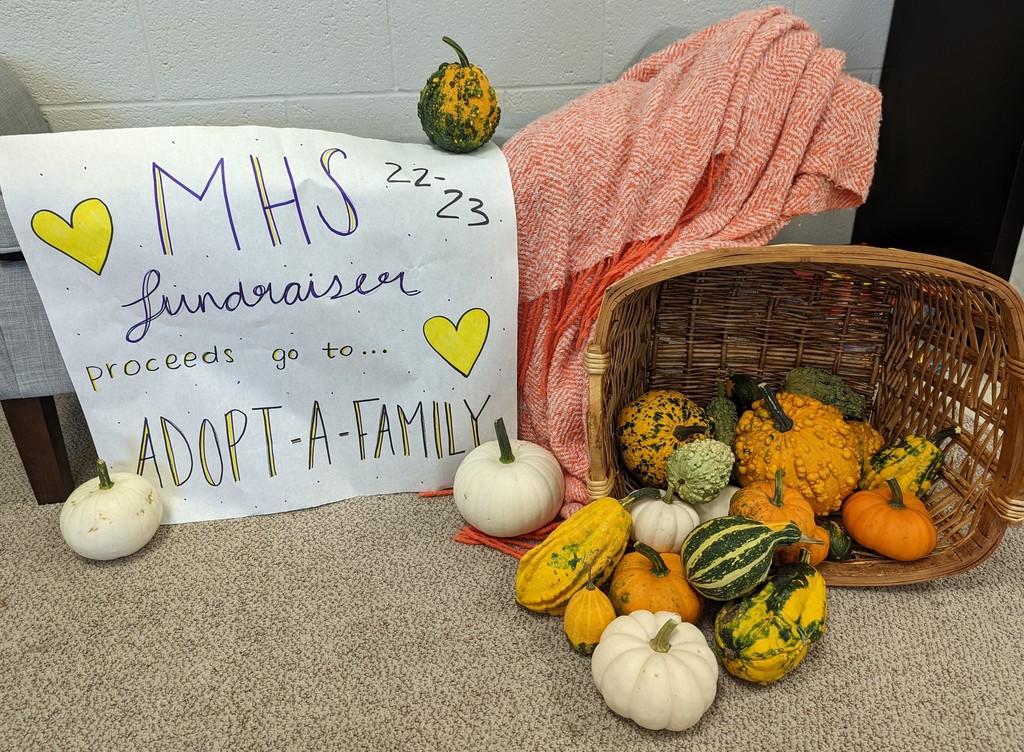 Montevideo Homecoming 22 Apparel THIS SECOND ORDER IS FOR PICKUP AT OUTLAW GRAPHIX ONLY! This store closes Sunday September 25th at Midnight, and items will be ready for pickup by Wednesday September 28th by Noon at Outlaw Graphix in Montevideo. *ONCE YOU PLACE YOUR ORDER YOU WILL RECEIVE A CONFIRMATION EMAIL, IF YOU DO NOT RECEIVE AN EMAIL YOUR ORDER DID NOT GO THROUGH!* If you have any questions about your order, please call Outlaw Graphix at 320-321-1332 or email
lindsey@outlawgraphixmn.com
All sales are final. No returns or exchanges. outlawgraphix.printavo.com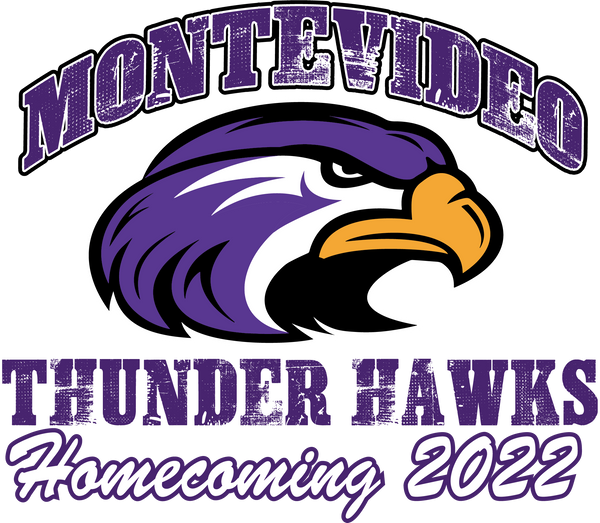 Kati Birhanzl is the third person on our staff to become a certified Trust Edge coach. Dave Vik and Vera Weber are also certified Trust Edge coaches. Trust Edge is a concept that uses 8 pillars to build positive culture in organizations based on Trust. Our administrative team has spent two years working through the "trust pillars" and our school board discusses a pillar at each meeting. Everything of value is built on Trust! Congratulations on this achievement, Kati! For more information about Trust Edge, please visit the Trust Edge Leadership Institute website at
https://trustedge.com/
or visit their Facebook page: Trust Edge Leadership Institute.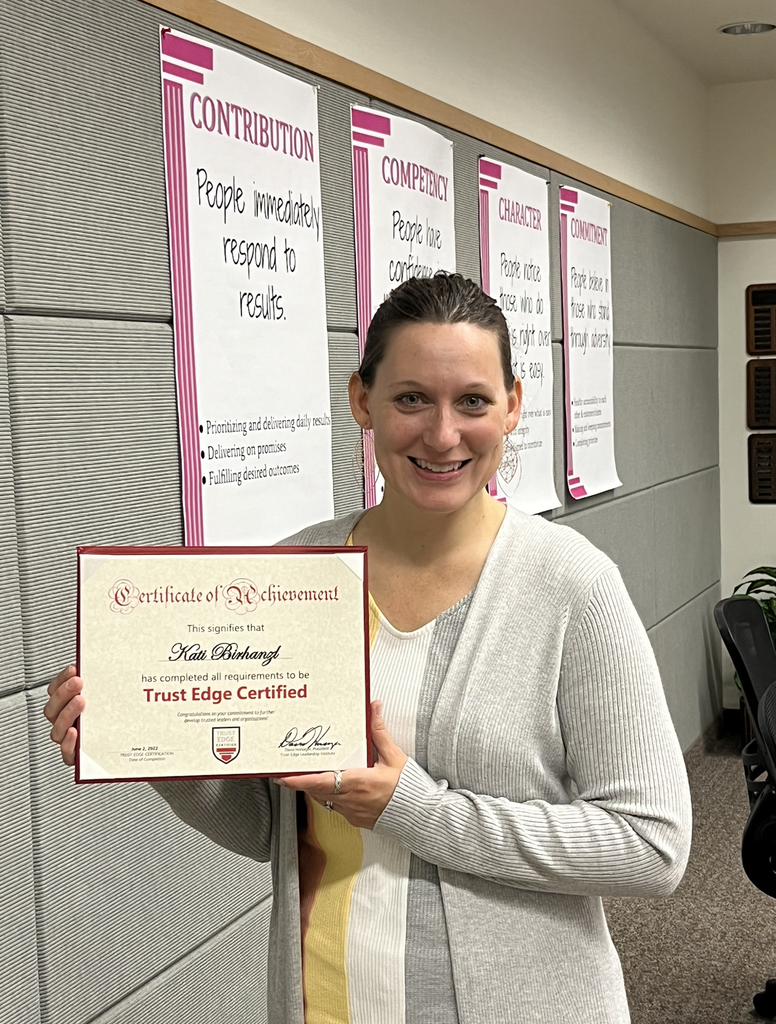 Meet our new staff! Help us give Gabby Mazer, School Counselor, a warm welcome to the Montevideo High School and the community. Gabby attended the University of Northern Iowa for a Bachelor's in Psychology with a Minor in Spanish. She attended the University of Mary for a Master's in Counseling with a concentration in School Counseling. She worked as a K-12 School Counselor in North Dakota for two years before moving to Montevideo this summer. Gabby and her husband have two dogs and a newborn baby. In her free time, she enjoys being with her family and dogs, being outdoors, reading books, and traveling. The most important thing for Gabby to accomplish this school year is to create a strong bond with both the staff and students in the school. She looks forward to being available for students to help make decisions about their future, and she is excited to be an active member of the Montevideo Public School District and the community. Welcome to our team, Gabby!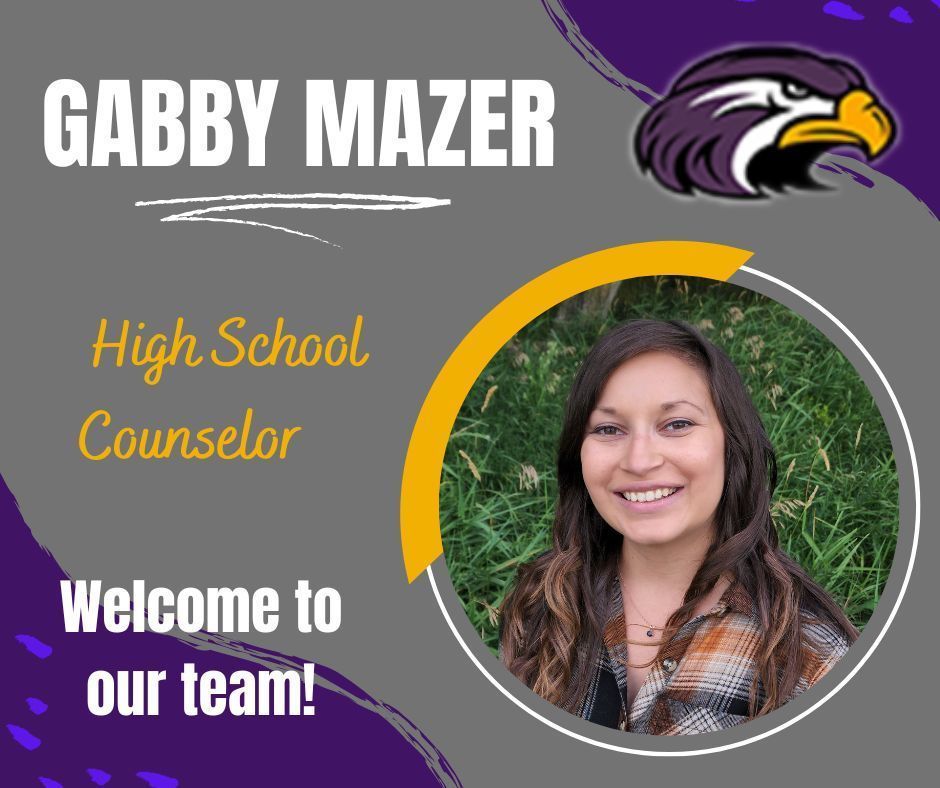 The location of the Girls Swimming and Diving meet on Thursday, September 1st has been changed to Montevideo. Go, Hawks!